Theatre of Movement is a visionary performing and visual art collective that creates original, provocative, and meaningful artworks informed by research into Black American and Caribbean histories and imagery.
FEATURED EVENTS 2020-21!
An Evening with the Creative Class--

Holiday Special
December 11th, 2020 at 7-9 pm EST (GET TICKETS!)
December 18th, 2020 at 7-9 pm EST FREE ADMISSION (REGISTER HERE)
Join us as Theatre of Movement presents two very special events that will definitely inspire you and give you joy for the holidays!
An Evening with the Creative Class is a series of informal presentations and discussions on the arts with a panel of curated guest artists and scholars sharing their talent in an enriching evening of community, networking, and discussion.
Friday Dec 11 at 7pm Evening with the Creative Class: Choreographic Voices: Black Men Creating Dance with Purpose
This live-streamed performance and artist panel features dance works by four distinctive black male choreographers—each with a unique voice and background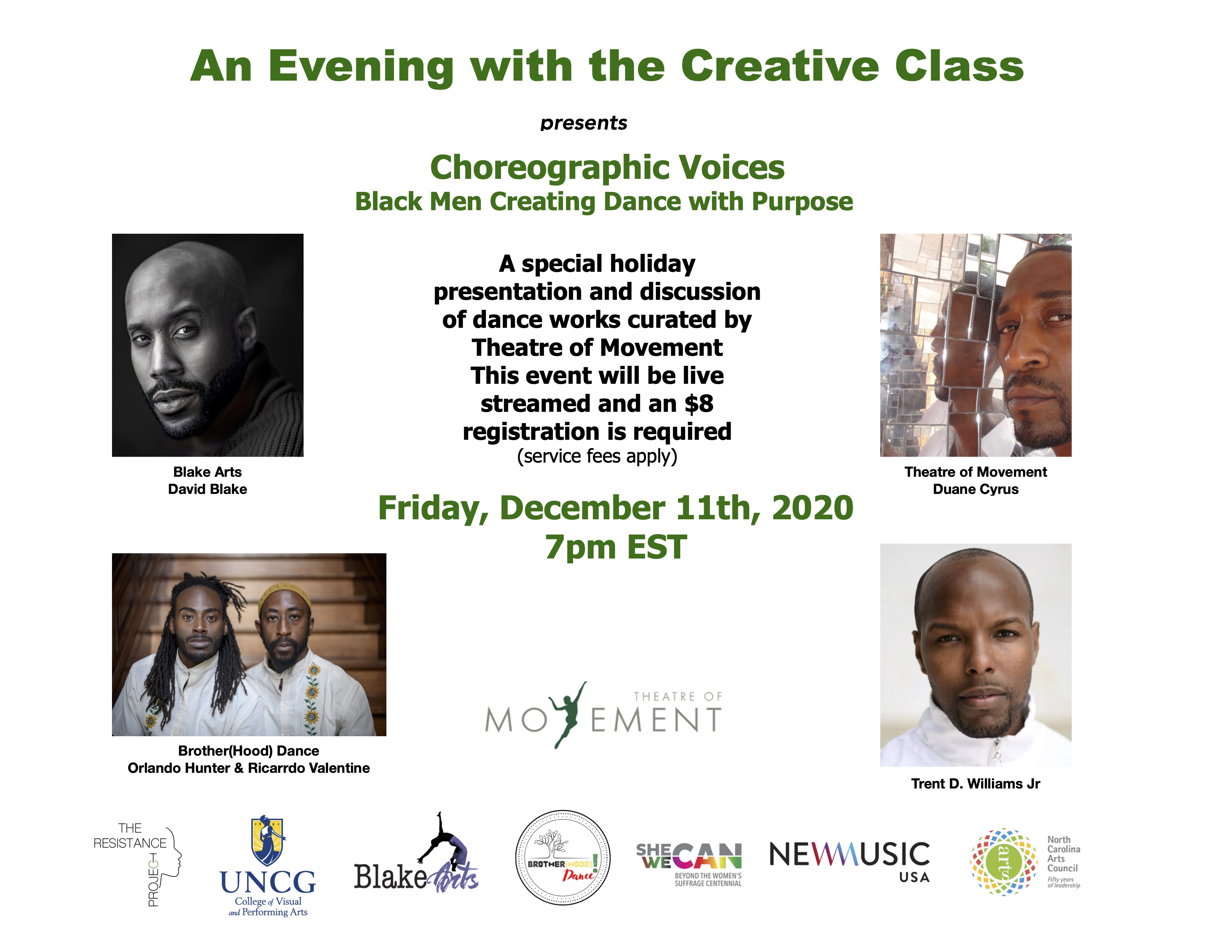 Friday Dec 18 at 7pm Evening with the Creative Class: Art Activists
This installment of An Evening with the Creative Class will feature a panel of Arts Activists sharing how their creativity helps to shape our social and cultural landscape with innovative and engaging artworks. We will meet on Zoom for this event to provide greater audience interaction. Registration required and Donations are accepted.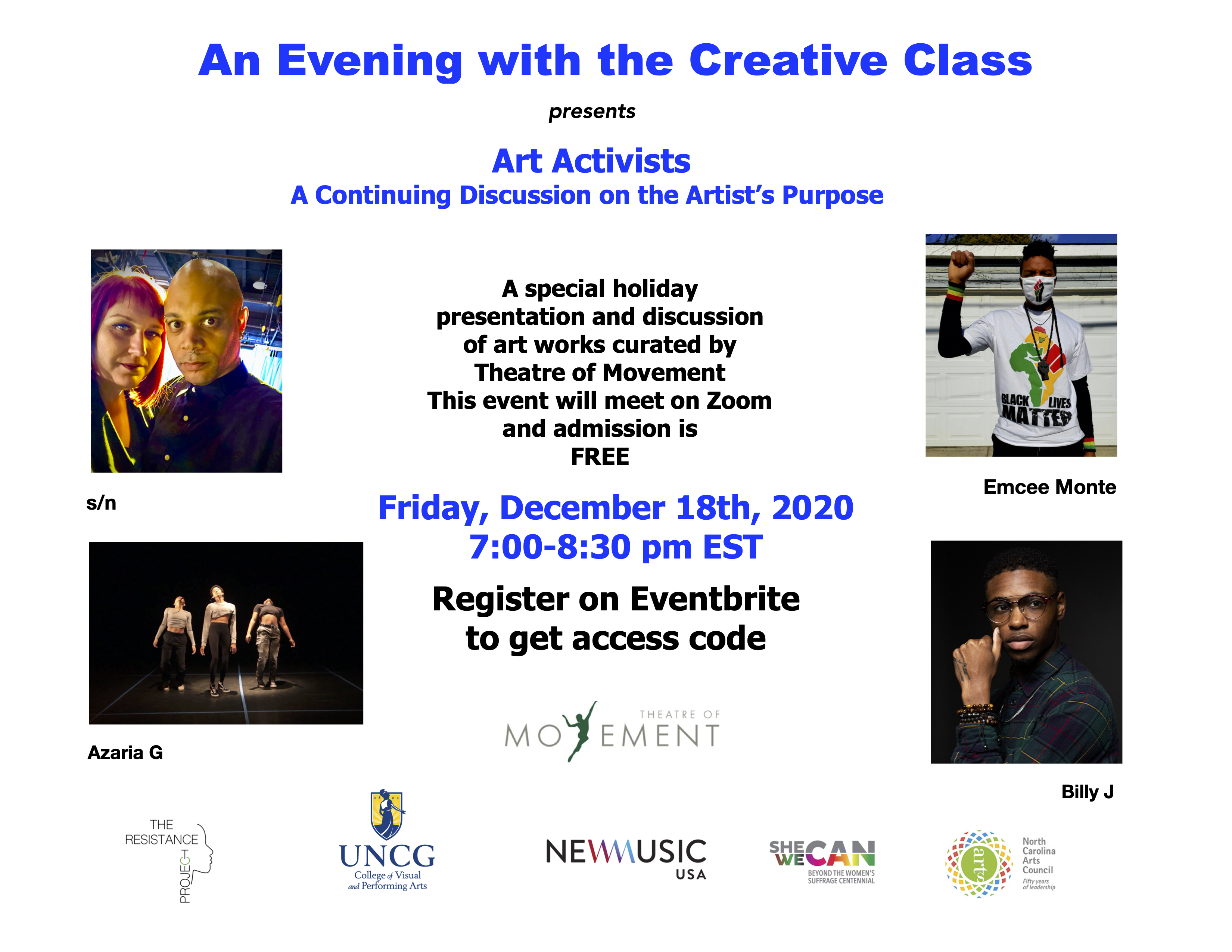 .
FEATURED PROJECT 2020-21!
The Resistance Project
The Resistance Project highlights Black women artists, scholars, entrepreneurs, and activists with empowered artwork and events.
This is done through community engagement, performance, and development workshops.
Workshops include creativity & multidisciplinary art; health & wellness; personal finance; and a more equitable reading of the contributions made to American culture by Black women of African, Caribbean, and Latin descent. The Resistance Project is available to women of all ages and backgrounds.
VIEW OUR LIVE STREAM from 9/30/2020!
What's Your Purpose?: The Role of Artists in Transforming Society What is the purpose or function of the art we make within society? How do young artists navigate a new career in the arts in the current environment? Featured guests include: Nya Bowman, former member of the Martha Graham Dance Company and Dr. Ayesha Boyce, assistant professor in the School of Education at UNCG UNCG Alumna: Jurne Smith and UNCG School of Dance students: Kesia Cedeno-Ballard, Azaria Gadson Moderator: Duane Cyrus
THEATRE OF MOVEMENT
Director and Founder Duane Cyrus
ABOUT DUANE
Duane Cyrus regularly works with top-level professionals from the region as well as special guest artists with successful careers in cities like New York, Atlanta, and Los Angeles. Cyrus's distinctive interdisciplinary works have been seen in concerts such as "The Vital Grace Project", "A Seat in History" and "Stars of American Dance". In North Carolina, his performance group, Cyrus Art Production (2006-14) performed at the NC Museum of History, North Carolina Museum of Art, Carolina Theatre, Aycock Auditorium, International Civil Rights Museum, The Greensboro Cultural Arts Center, and Triad Stage among others. Abroad, the company performed and engaged audiences at the 92nd St Y, Ailey Citigroup Theatre (NYC) and as far away as Tokyo, Hiroshima and Honolulu. As an independent artist Duane Cyrus continues to delight audiences nationally and internationally––expanding his artistic voice by presenting accessible, thought-provoking work that educates as well as entertains.
More on Duane
Our Season Report
Theatre of Movement presents works by Duane Cyrus as well as works, events, and collaborations with artists from around the world. Please contact us to purchase or present one of our works; collaborate with us; or produce a project with us.
Highlights from the 2019-20 season include

• Performances: Duane Cyrus was commissioned by the Charlotte Ballet to create Colony of Desire for their Immersed in Light series. The work premiered Jan 24-Feb 15, 2020 at the Center for Dance in Charlotte, NC. Collaborators included award-winning costume designer Shane Ballard and composers Jonboyondabeat and Angus Tarnawsky.
• Community Engagement: Evening with the Creative Class is our community engaged forum that brings audiences up close to the artistic experience. In September 2019 we presented "The Body as Research" with special guest Maleek Washington. And for February 2020 we presented "The Resistance Project: Women of the African Diaspora: Activism in Arts, Education, and Business". Fall 2020 and spring 2021 will feature The Resistance Project
• Arts Education: Company members DeVontee Tanner and Rashod Wells, along with Cyrus returned to NC Arts in Action's LEAP (Learning Excellence and Perseverance) program. We worked with 25 amazing 4th graders to explore the meaning of Mindfulness, Adaptability, and Strength. We completed this residency with virtual sessions due to Covid-19 pandemic.
• Awards & Grants: The Resistance Project
The Resistance Project (Celebrating African Diasporic Women's Activism through Music and Dance) was supported by New Music USA, made possible by annual program support and/or endowment gifts from The Andrew W. Mellon Foundation, Mary Flagler Cary Charitable Trust, Baisley Powell Elebash Fund, The Gladys Krieble Delmas Foundation.
The Resistance Project was also supported by the She Can/We Can initiative and the Faculty Grant from the University of North Carolina at Greensboro
We hope to see you at our next event!